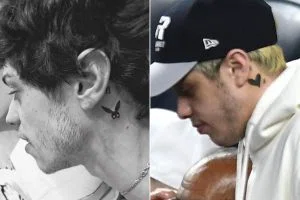 Pete Davidson has covered up the Ariana Grande-inspired bunny ear tattoo on his neck. It's now a huge heart with a small "A" next to it.  Apparently the change isn't due to any relationship issues–Davidson was just changing up the ink to match one that Ariana has. *Photo from People
Cardi B has revealed why she went after Nicki Minaj at New York Fashion Week. Cardi says she talked to Minaj twice before the altercation, but that Nicki continued to diss her.  Cardi says Minaj crossed the line when she questioned her parenting skills online.
Priyanka Chopra says she gave fiance Nick Jonas some subtle guidance on picking her Tiffany & Co engagement ring.  Saying, "Well, I may have dropped that hint. I think we had a conversation about it when we were dating and I've always known it had to be Tiffany." *Photo from MangoBaaz

Halsey says that Bradley Cooper and Lady Gaga's remake of A Star Is Born is her "favorite movie" this year and that she's "so happy" she has a cameo in it.  "Lady Gaga and Bradley just absolutely killed it," she gushes.