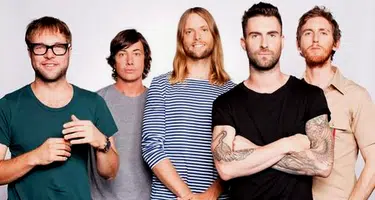 Maroon 5 will be headlining the half time show at Super Bowl 2019. It'll be on February 4 at Mercedes Benz Stadium in Atlanta, Georgia. The confirmation of the LA based group, hasn't gone over too well, given the amount of high profile, talented, musicians that are actually from Atlanta, who were passed up for the gig. One Twitter user made a list of some potential Georgians, saying :
"Not picked to headline an Atlanta Super Bowl:
Ludacris
Migos
T.I.
Bubba Sparxxx
Outkast
Jermaine Dupri
Future
Run the Jewels
Ying Yang Twins
Rich Homie Quan
Dem Franchise Boyz
Waka Flocka Flame
Lil' Jon
Usher
Youngbloodz
Picked to headline an Atlanta Super Bowl:
Maroon 5"
Now, the big question. Will Cardi B make a guest appearance?  Travis Scott is also "on the short list" of possible guests for the show.
Kristen Bell has confirmed that Veronica Marsis returning for an eight-episode revival on Hulu.  She added that old episodes of the show will be available to stream on Hulu in summer 2019, ahead of the new miniseries.
*Photo from Jenesaispop.com