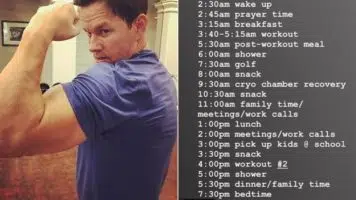 Mark Wahlberg is known for being in fab shape. He recently revealed his daily routine, for staying in such great shape. And it's bananas.  On a typical day, MArk get's up at 2:30am, before half an hour of prayers. After breakfast at 3:15am, he does a 95-minute workout followed by another meal, shower, snack, golf and "cryo chamber recovery" – all before 10:30. He goes to bed at 7:30. The cryotherapy recovery is a treatment favoured by athletes using liquid nitrogen to briefly plunge the air to temperature below -100C to alleviate muscle and joint pain. Wahlberg has an hour and a half set aside for a shower, followed by half an hour devoted to playing golf. And then there's the food intake.
"I start out with steel oats, blueberries and peanut butter for breakfast," he said. "Then I have a protein shake, three turkey burgers, five pieces of sweet potato at about 5:30 in the morning. At 8 o'clock, I have about 10 turkey meatballs. At 10:30am, I have a grilled chicken salad with two hard-boiled eggs, olives, avocado, cucumber, tomato, lettuce. Then at 1 o'clock I have a New York steak with green peppers. At 3.30pm, I have grilled chicken with bok choi. At 5.30/6 o'clock, I have a beautiful piece of halibut or cod or a seabass, with some vegetables, maybe some sautee potatoes and bok choi. And I have a lot of Aquahydrate during the day. That's it."
Julie Chen returned to CBS as the host of Big Brother on Thursday night and showed her support for husband Les Moonves, who was recently fired as the president of CBS. "I'm Julie Chen Moonves. Good night," she said. It was a deliberate departure from her usual signoff, which doesn't include her husband's last name.  Moonves was fired on Sunday after sexual misconduct allegations emerged from six more women.
*Photo from Twitter