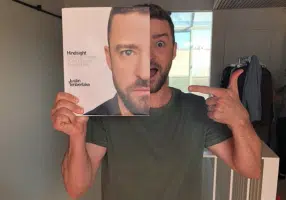 Justin Timberlake is releasing his first book, Hindsight: & All the Things I Can't See in Front of Me on October 30th. The book is an "intimate collection of images" and stories covering his entire life. Hindsight will also feature "touching tributes" to his wife, Jessica Biel, and 3-year-old son, Silas.
Matt Lauer is "beginning to inch his way back into society" after being fired from TODAY for sexual misconduct. An insider says Lauer knows he "can't hide forever" in the Hamptons. He hopes that he can make a comeback at some point.
Paul Rudd will star in an eight-episode comedy for Netflix called Living With Yourself.  The actor will play a guy who goes to extreme extraordinary lengths to become a better person.
Pornhub gifted Kanye West with a lifetime membership to the site after he admitted to Jimmy Kimmel he still checks out the site. Pornhub tweeted its gift to Kanye on Friday, thanking him for "his loyalty to us over the years." When Kimmel asked Kanye if having daughters changed his "attitude toward women," 'Ye said, "Nah, I still look at Pornhub."
*Photo from Consequences of Sound