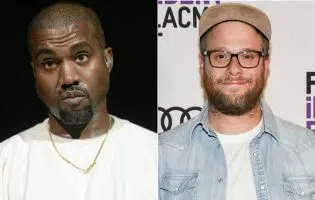 Seth Rogen says Kanye West used to follow him around at the gym, quoting his movies. Apparently they had the same personal trainer and that their interactions were "so weird." Saying, "He's just like, 'So McLovin, that's a funny joke.' I'm like, 'Yeah, man. I don't know what to tell you.'
Justin Bieber told a paprazzo he was caught crying in New York on Tuesday because "you have good days and you have bad days." He also showed off a copy of the self-help book The Meaning of Marriage and declared, "It's not real if you don't have any bad days." Bieber and Hailey Baldwin seem to have gotten over their crying jag, as they looked "loved up" while Bieber got a haircut Wednesday in Manhattan.
On what would have been her and John Cena's sixth anniversary, Nikki Bella wrote: "You've changed me forever. And I'll never forget you." The couple recently announced that they had split again, just two months after reconciling.
*Photo from NME.com