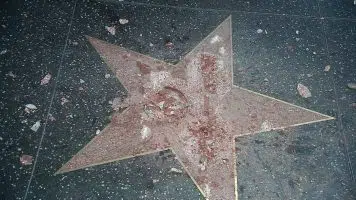 Someone took a pickaxe to President Trump's star on the Hollywood Walk of Fame, completely destroying it.  The suspect, Austin Clay, faces charges of felony vandalism after turning himself in to police. This is the second time in three years that Trump's star has been totally destroyed; a 2016 vandal took to it with both a jackhammer and a pick axe. The star has been more lightly vandalized on multiple occasions, with the crimes going up when Trump became a serious White House contender.
Camila Cabello says her and Taylor Swift "have the same personality in a lot of ways, especially talking about love and relationships, boys, and music." Camilla is one of the opening acts for Taylors Reputation Tour, and says she was a really huge fan before she even met her, because they both have the hopeless romantic thing, and enjoy talking about love and relationships
Cardi B thinks Offset was targeted for being rich and famous when he was arrested on felony weapons charges this past weekend outside Atlanta. Cardi B also allegedly believes that the guns found in her husband's car can't be his because he doesn't own any. She's further insisting that even if he got sent to jail, she'd stick by him.
*Photo from CNN