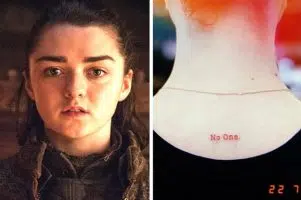 Maisie Williams paid tribute to her time on Game of Thrones by getting a tattoo of the words "No one" across the back of her neck. * She took to Instagram to share a photo of her new ink, which she got from celebrity tattoo artist Sanghyuk Ko at Bang Bang NYC. Williams also got tattoos of on her arms of a daisy and the words "little rascal."
*"No One"explanation : Arya spent two seasons as the House of Black and White trying to become "No One" before rejecting the Faceless Men and returning to Westeros.
Justin Bieber has apparently "never felt more sure about a woman in his life" when it comes to his fiancée Hailey Baldwin. Justin and Hailey get along great, are on the same page about their faith and what they both want out of their future together." They can't wait to be husband and wife" and have already started wedding planning.
Don't worry, One Direction fans: Although he was a day late and the last one to chime in, Harry Styles finally took to Twitter on Tuesday to commemorate his boy band's eighth anniversary with a heartfelt message. "Wow, eight years has passed," he tweeted. "Thank you for all the love, thank you for all the support. Thank you for everything. I love you. H." On Monday, bandmates Louis Tomlinson, Liam Payne and Niall Horan had likewise tweeted gratitude for the anniversary. 1D is currently on what's been billed as a permanent hiatus, with each member pursuing a solo career.
Ariana Grande has revealed that she plans on stepping back from social media–by using Snapchat instead of Instagram and Twitter. "I'm prolly gonna post on there for a little while and take a breather from Twitter and IG for a little. Just sometimes can't help but bump into some negative s**t that really can bum you out and it's not worth it honestly." Fiancee Pete Davidson has erased his socials, too.
*Photo from Buzzfeed