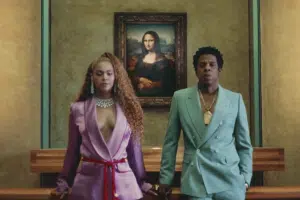 Cardi B says she hasn't hired help after welcoming her daughter Kulture last week. Saying, "I just want to learn how to be a mom. I want to enjoy every single second of it since I'm going back to work. So I don't have that extra hand." She gives props to her mom who she says "has not left my sight, not one time. "
After filming the music video for their new single in Paris, Beyonce reportedly now has her sights on the Colosseum in Rome. Bey submitted a request to film at the Colosseum. Her initial request to film there on July 7 and 8, when she and Jay-Z were in town for their On the Run II Tour, was rejected by Italy's Ministry of Cultural Heritage because Italian scientist Alberto Angela already had the amphitheater booked. Beyoncé has reportedly resubmitted her request and it's currently under review. Bey previously filmed at the Colosseum for the iconic Pepsi Super Bowl commercial with Enrique Iglesias, Britney Spears and Pink.
Kylie Jenner's decision to pierce her baby's ears has sparked some debate. Some saying that Stormi is way too young, others saying the younger the better.
*Photo from Vulture