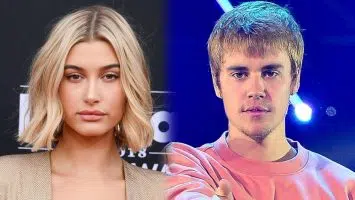 Justin Bieber reportedly proposed to Hailey Baldwin during a vacation in the Bahamas over the weekend. Reports are that he popped the question at a restaurant on their resort Saturday night. Shortly before the proposal, Bieber's security told other guests to put their phones away because something special was about to happen. On Sunday, Baldwin was also spotted wearing a massive engagement ring.
Both Bieber and Baldwin's parents have reacted to the news. Bieber's mom Pattie Mallette tweeted, "Love Love Love Love Love Love Love." Baldwin's dad Stephen added on Sunday, "Sweet smile on my face! Me and wife (Kennya) always pray for God's will!! He is moving in the hearts of JB & HB. Let's all pray for His will to be done… Love you two so much!!!
Selena Gomez was spotted spending time on a yacht Sunday, amid the news. Looks like she is unbothered.
Ariana Grande took to Twitter to defend Justin Bieber and Hailey Baldwin after critics suggested that Grande and Bieber's mutual manager Scooter Braun arranged their engagements as publicity stunts. "First Ariana Grande gets engaged to Pete Davidson and now Justin Bieber to Hailey Baldwin. The devil works hard, but Scooter Braun works harder," one fan tweeted. Grande responded, "You do realize we are human beings who love and have lives, right? And that Scooter is a wonderful human being too, who cares first and foremost about our health and happiness. Love is lot. S**t happens. I hope to god it happens to you too. You deserve it." When fans pointed out that the tweet was a joke, Grande deleted hers and wrote, "Okay okay. Be nice to that man [Braun]. He's wonderful. And very human. Always puts his artists' health and happiness first."
*Photo from Fox News