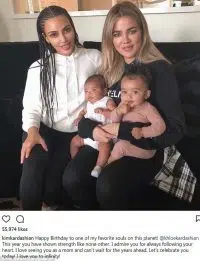 Kim Kardashian celebrated her sister Khloe's 34th birthday yesterday by convincing Khloe's baby daddy Tristan Thompson to unblock her on social media. In clips posted to her Instagram Story, Kim is seen teasing Thompson and asking her viewers, "Alright guys, so, what do you think? It's Khloe's birthday, do you think I should ask this guy to unblock me?" After laughing, Thompson agrees and says, "For Khloe's birthday, I think it's only right." In another clip, Kim spies over the basketball player's shoulder and teases Khloe about trying to find out his phone passcode—to which he mumbles, "She knows it." Thompson blocked Kim after she came to the defense of Khloe amid news Tristan had cheated on her. Thompson had also blocked Khloe's besties, Malika & Khadijah Haqq.
Kim also commemorated Khloe's birthday by sharing a  photo of their newborn daughters, True and Chicago. Captioning the photo, "This year you have shown strength like none other. I admire you for always following your heart."
Joe Jackson, who formed The Jackson 5 with his sons, has died at the age of 89. Joe passed away in L.A. Members of the Jackson family had reportedly been flocking to Joe's bedside as news broke that he was battling terminal pancreatic cancer. Joe's Twitter account tweeted this past Sunday, "I have seen more sunsets than I have left to see. The sun rises when the time comes and whether you like it or not the sun sets when the time comes." However, granddaughter Paris Jackson later claimed that Joe, who was reportedly abusive to his famous offspring throughout his life, did not write that tweet himself.
*Photo from Dailymail.co.uk