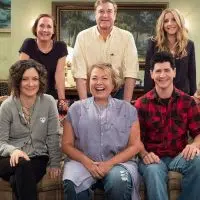 ABC has canceled Roseanne after Roseanne Barr made a racist joke on Twitter about former White House aide Valerie Jarrett. After her racist tweet, Roseanne tweeted out an apology. Before the announcement of the cancellation form the network, Roseanne writer Wanda Sykes tweeted that she "will not be returning to @RoseanneonABC.
Roseanne declared that she was quitting Twitter after receiving backlash for the tweet on Monday, but was back yesterday and addressed ABC's decision to cancel the show. She said "Don't feel sorry for me, guys! I just want to apologize to the hundreds of people, and wonderful writers (all liberal) and talented actors who lost their jobs on my show due to my stupid tweet." She told fans who were tweeting their support not to defend her, and blamed the sleep aid Ambien for her tweets. "It was 2 in the morning and I was Ambien-tweeting. It was Memorial Day too. I went too far and do not want it defended.
Roseanne's ex-husband Tom Arnold is applauding ABC's decision, saying "Ton of respect for [ABC CEO] Bob Iger. Tough decision with financial consequences for his company but right for America."
Sara Gilbert, who starred and served as an executive producer on the revival, has blasted Roseanne. Tweeting, "Roseanne's recent comments about Valerie Jarrett, and so much more, are abhorrent and do not reflect the beliefs of our cast and crew or anyone associated with our show. I am disappointed in her actions to say the least." Gilbert called the cancellation "incredibly sad and difficult for all" as they created a show that they believed in, were proud of, and that audiences love, "one that is separate and apart from the opinions and words of one cast member." There are reports that Viacom will be pulling reruns of the original Roseanne from three channels: Paramount Network, TV Land and CMT. Laff, a digital platform that features old sitcoms and movies, will also stop streaming the show.
*Photo from E!