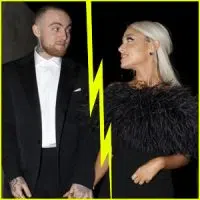 Looks like Ariana Grande and Mac Miller have called it quits after nearly two years of dating. They quietly ended things after their work schedules became too hectic, but they remain "the best of friends." Miller recently tweeted his admiration for his ex when she released "No Tears Left to Cry," her first single since the incident.
An unnamed woman has filed a lawsuit against Chris Brown and one of his friends, Lowell "Young Lo" Grissom, over an alleged rape at an after-party Chris Brown hosted in February 2017. While Brown did not participate in the alleged sexual assault, he stands accused of false imprisonment and supplying partygoers with cocaine, ecstasy and marijuana. During a press conference, the victims lawyer described the alleged crime as "one of the most horrific sexual assault cases" she's ever seen.
A new online conspiracy is that Travis Scott isn't the true father of Kylie Jenner's daughter, Stormi. They've come up with this conclusion because they think Stormi looks exactly like Kylie's bodyguard, Tim Chung.
*Photo from JustJared