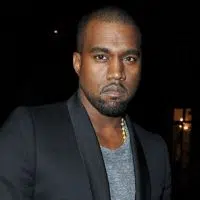 Kanye has parted ways with much of his management team, and TMZ called him "a little erratic." To which Kim Kardashian blasted them for 'being quick to label him for being expressive". Kanye originally tweeted his love for Trump and continued yesterday, this time talking about his own presidential prospects. Tweeting "2024" and "Harvey Levin of TMZ your hearing from your future president. Let's be friends. Please never use the word erratic to describe a person who is economically and psychologically empowered." Then "When we become president, we have to change the name of the plane from Air Force One to Yeezy Force One." And of course had to get some Trump love in again, too. "You don't have to agree with [Trump], but the mob can't make me not love him. We are both dragon energy. He is my brother." Trump replied, "Thank you, Kanye, very cool!"
The rumor was that following these tweets, Kanye had lost about 9 million followers. But, a Twitter spokesperson says "Any fluctuation that people might be seeing is an inconsistency and should be resolved soon."
When it's your birthday, you're almost required to wear something special. At least that's what Gigi Hadid did on Monday, April 23, as she celebrated turning 23 at Brooklyn Heights Social Club in NYC. Her outfit for the party, combined with her late-at-night loungewear, cost more than $25,000. Hadid started the night in a custom gold minidress by Versace, that is said to cost in the five-figures. She paired the dress with Louboutin's clear studded "Spikoo" pumps, which sell for $995, and topped off her look with a custom bedazzled manicure costing upwards of $150. After the party, the supermodel was spotted in a custom Juicy Couture tracksuit emblazoned with a "23" made of Swarvoski crystals on the back. She is said to have spent more than $1,195 for the hoodie and $1,075 for the pants. Surprisingly, there was one budget item included in her look: a $3.99 Maybelline gold eyeshadow.
*Photo from HipHopDX