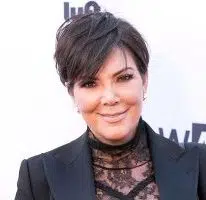 Kris Jenner has been a "constant presence" in Cleveland with Khloe and her newborn daughter True, and now, in the aftermath of  Tristan's cheating scandal, Kris wants Khlo and True back in Los Angeles. But, Khloe might not be on the same page. According to sources "Kris is concerned that the longer Khloé stays in Tristan's house with their daughter, True, she won't move back to Los Angeles as she had said she wanted to do before she gave birth in the aftermath of his cheating scandal. Kris has been a constant presence in the house, helping Khloé with True. Things have been strained with Tristan, but she has forgiven him. Their relationship is still very much up in the air."
Kris isn't just worrying alone, either. She's called in Kim, Kourt, and Kendall.  "[The girls were there] to back up Kris and give Khloé a gentle nudge to not stick around in Cleveland." Apparently, Khloé's concern is that Tristan won't be able to bond with True because of the basketball playoffs if she moves back to Los Angeles.
Back in 2016, Nick Cannon called Maria Carey's now-former manager, Stella Bulochnikov, in a panic because Mariah told her nanny to prepare to host dinner for her guests; Prince, Michael Jackson and Whitney Houston–all of whom were dead at the time. Carey was reportedly "wearing a ball gown and tiara". She was then driven to a hospital at the urging of a psychiatrist and reportedly tried to jump out of a car while en route. 'The Blast' reports that she was in a "terrible manic state" at the time, after a summer of heavy partying with current boyfriend Bryan Tanaka.