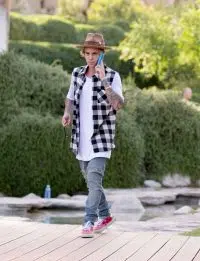 Justin Bieber was at Coachella, and attended Patrick Schwarzenegger's Coachella party on Saturday night. While there, he punched a guy in the face. Sounds aggressive, but Bieber was actually defending a woman who was being assaulted by the man in question. Apparently the man walked in, saw a woman, and "went ballistic." Party sources say the woman may have been his ex-girlfriend.He grabbed the woman by the throat and wouldn't let go. That's when Bieber and a few friends started screaming at the man to let her.Eventually, Bieber hit the man in the face, and pushed him against the wall. The guy was thrown out of the party, and later, while chasing a car that he believed Justin was riding in, the man was arrested.
Beyonce's publicist reportedly sent out an email to news outlets on Friday asking them not to publish fans' photos of her Coachella performance. Urging publications to stick with approved shots from the show. This isn't the first time that Beyonce has tried to keep bad photos of her from being published. Her team famously emailed BuzzFeed after her 2013 Super Bowl haftime show asking them to take down a series of "unflattering photos" they shared.
Former couple The Weeknd and Bella Hadid sparking rumors that they're hooking up again after being spotted kissing during Travis Scott's set at an event for Kylie Jenner's new Kourt x Kylie makeup line on Friday night. The PDA came after The Weeknd performed an emotional headlining set at Coachella earlier in the night. The singer and the model split in November 2016 after dating for almost two years.