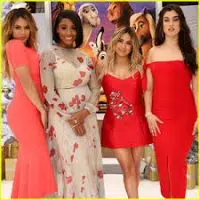 Fifth Harmony is taking an indefinite hiatus. The remaining 4 member released a statement this week saying, "Reflecting on the past six years since we started on X-Factor, we've realized just how far we've come and we appreciate everything so much, more now than ever. We've really had one hell of a memorable journey together and can't begin to express our gratitude to y'all for coming along with us on this wild ride! After six years going hard, non-stop, we also realized that in order to stay authentic to ourselves and to you, we do need to take some time for now to go on hiatus from Fifth Harmony in order to pursue solo endeavors."
Rumor has it that Donald Trump Jr. had an affair with Aubrey O'Day when she appeared on Celebrity Apprentice back in 2012. Several outlets have pointed out that she has a song called "DJT" on her 2013 album that's about an affair.  Given that the full name of the President's son is Donald John Trump Jr., it seems very plausible that he's "DJT."   Interestingly, a week before news of this alleged affair broke, Trump Jr.'s wife Vanessa filed for divorce. O'Day's rep says the singer has no comment.
*Photo from Just Jared Jr.